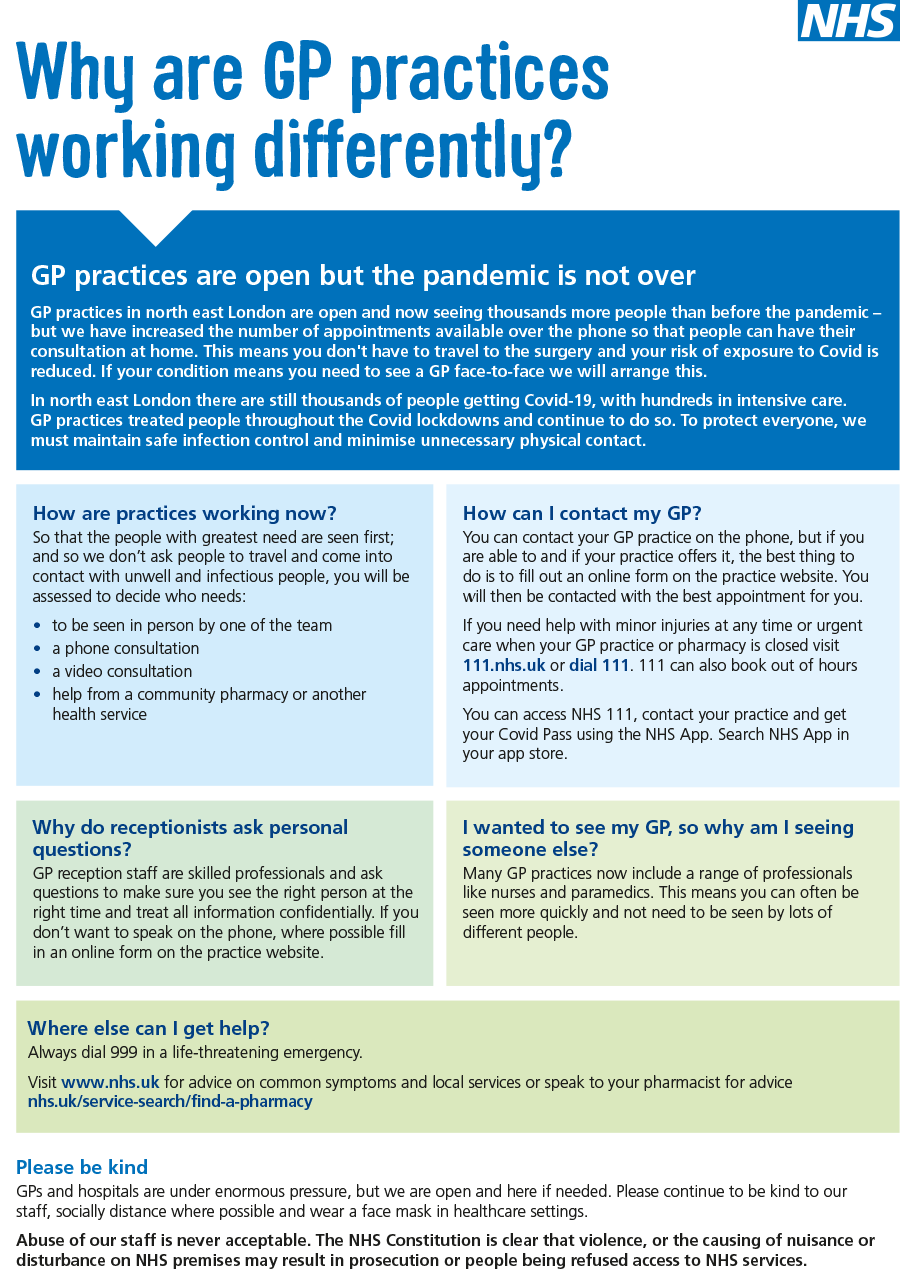 Welcome to Harford Health Centre
We are part of the network 3 (Whitechapel & Stepney) area and committed to delivering excellent health to the community. As a practice we want to provide effective patient care delivered with a smile in a compassionate courteous and non – discriminating, enabling environment.

Important Practice News & Notices
Dear Patients,
Thank you for your feedback on our current phone lines. We have reviewed our current phone system and are pleased to announce we have a new phone system going live from the 13th of December 2021.
Dear Patients,
On Thursday 2nd September 2021 the General Practice Data for Planning and Research (GPDPR), allowing patient data from GP records to be extracted and sent to NHS Digital for the purposes of planning and research, was put off again indefinitely. This is after more than one million people opted out of the NHS data-sharing in one month.
The NHS App provides a simple and secure way for patients to book GP appointments, order repeat prescriptions and access a range of other healthcare services.
Advice, tips and tools to help you make the best choices about your health and wellbeing.
We are pleased to announce that our practice now offers the eConsult service to our patients! eConsult offers a whole range of information for common conditions, ailments and injuries; in addition to the facility to submit a consultation to a GP, or a query to the administration team.
Book GP and pharmacy appointments, order online prescriptions and view your medical record at your convenience. Patient Access, in partnership with NHS.
Are you pregnant?
Are you 65 years or over?
Do you have diabetes?
Do you have COPD or asthma?
Do you have heart disease?
Do you have a weak immune system?

This practice allows community health service clinical staff directly involved in your care to access parts of your medical record. Your consent will be asked before this can take place. If you do not wish this to happen, please let the practice know.