Due to high demand we have closed the E consult early today. Please contact 111 if it cannot wait until tomorrow. Apologies for any inconvenience and thank you for your understanding.
Welcome to Harford Health Centre
We are part of Network 9 (Aldgate, Wapping & Stepney) area. We are committed to delivering accessible, high quality and excellent healthcare services that inspires confidence in our patients and our community. As a practice we want to provide effective patient care delivered in a compassionate, courteous and enabling environment.
2022-23 confirmed bank holidays
26 December 2022 – Bank Holiday
27 December 2022 – Bank Holiday
2 January (New Year's Day substitute)
7 April 7 (Good Friday)
10 April 10 (Easter Monday)
1 May (Early May bank holiday)
8 May (King Charles Coronation)
29 May (Spring bank holiday)
28 August (Summer bank holiday)
25 December (Christmas Day)
PLT training dates 2023-24:
2023
Thursday 20th July 2023
Tuesday 22nd August 2023
Thursday 14th September 2023
Tuesday 10th October 2023
Thursday 23rd November 2023
Tuesday 12th December 2023
2024
Thursday 18th January 2024
Tuesday 6th February 2024
Thursday 21st March 2024

Important Practice News & Notices
We are now offering a travel vaccination clinic under the NHS. Please enquire at Reception.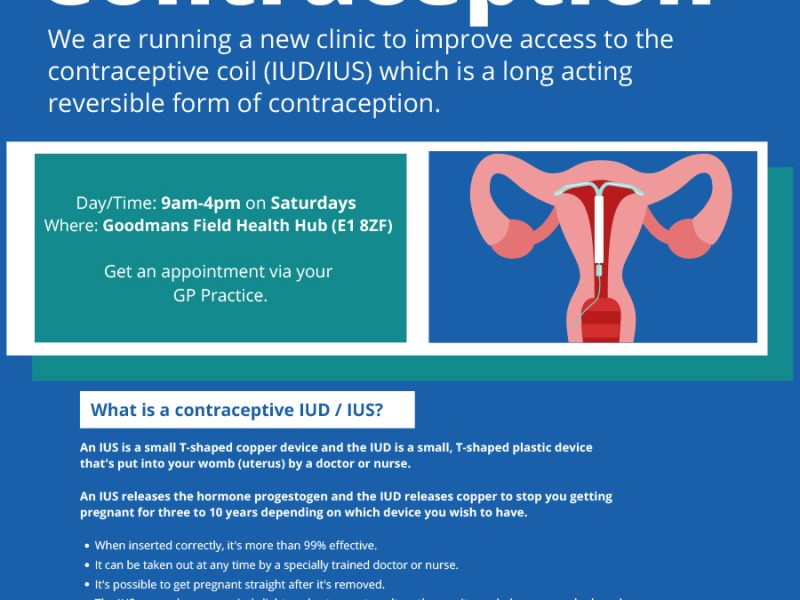 We are running a new clinic to improve access to the contraceptive coil (IUD/IUS) which is a long acting reversible form of contraception.
Healthy Start is going digital. Click here for more information.
Dear Patients,
On Thursday 2nd September 2021 the General Practice Data for Planning and Research (GPDPR), allowing patient data from GP records to be extracted and sent to NHS Digital for the purposes of planning and research, was put off again indefinitely. This is after more than one million people opted out of the NHS data-sharing in one month.
Advice, tips and tools to help you make the best choices about your health and wellbeing.

This practice allows clinical staff in other community health services to be directly involved in your care by giving access to your medical record. Your consent will be asked before the data is shared. If you would like to opt out, please inform the practice.